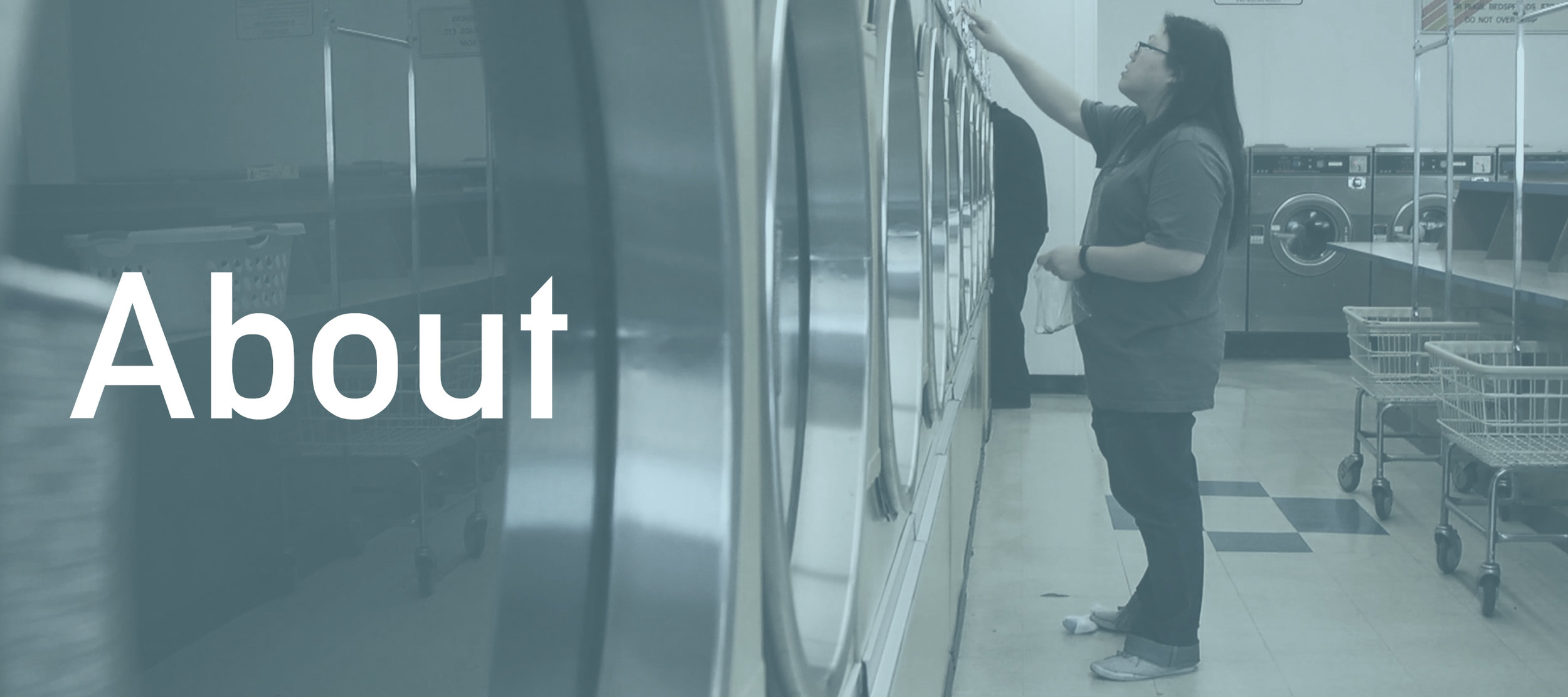 Keep private those things that happen within our household. Don't share your family's shame or secrets.
I don't remember ever hearing those things stated so explicitly, but many of the rules of family and culture are not so obvious.
Without rulebooks to reference, young Asian Americans go through life not knowing when to speak and when to remain quiet. It becomes even more challenging when those messages are paradoxical. At the same dinner table, shameful news could be spoken in hushed tones or in the dialect of a language only the adults understand; or conversely, the news is loudly delivered as parables and morality tales of how to properly behave.
Because most Asian Americans are trying to live out the rule never to air their dirty laundry, they often lack the tools to process their emotional pain and turmoil. Frequently a crisis must interrupt their lives before they decide they need help in dealing with any shame or secrets.
The Laundromat is a documentary about many of these issues of silence, shame, and cyclical family dynamics, but just as important, The Laundromat is a name for the safe space I hope to create with this movie. I hope the film can be used as a jumping off point for reflection on one's upbringing and the culture of the community you live in. Sometimes all one needs to begin this process is some breathing room, some emotional safety and a push in the right direction.
For me The Laundromat documentary became a place to process what I was feeling in the past and the present, as well as a place to examine what was happening in my community. The conversations I hold with my friends and leaders in the API community are what helped fuel this process. In the shared act of speaking and listening, we fostered trust and an environment of openness.
The film is no substitute for a professionally-created environment of therapy and The Laundromat doesn't promise cures or solutions, but maybe it's a start—a start towards a different kind of relationship between Asian American families or a healthier understanding of how one was raised or insight into what is going on in the vast range of experiences we call the Asian American Pacific Islander culture.
Director: Vanessa A. Yee
Producers: Vanessa A. Yee, Frances E. Chang
Director of Photography: Judy Phu
Additional Photography: Chen-wei Liu, Esther Shubinski, Taryn Roraback
Production Sound: Vanessa A. Yee
Editor: Esther Shubinski
Story Consultant: Christina Sun Kim
Composer: Deborah Lee Proaño
Post Production Supervisor: Lucas Mireles
Post Production Sound Supervisor: Battiste Fenwick
Re-recording Mixer: Mike Simpson
Colorist: Jason Knutzen
Graphic Designer: Hayley Greenhalgh
Web and Brand Design: Akemi Hong
Online and Dub Facility: Different by Design
Wong Flew Over the Cuckoo's Nest Footage Courtesy of: Kristina Wong, Michael Closson
With special thanks to: Marina Goldovskaya, Becky Smith, Gyula Gazdag, Nancy Richardson
Larry Lue, Kristina Wong, Russell Jeung, Judy Ho...
Alex Chiu, Joseph Tsang, Kristen Sam, Melissa & Van Quach, Monica Matsushima, Jessica Oei, Mrs. Low, Chris Domino, Marissa Rousseau, Ali Guerin, Jeanne Tyson, David Tayar, Cheri Smith, Albert Malvaez, Billy Woodberry, Sandra Lawton, the UCLA Documentary family
And especially to: Ann, April, Chris, and their families
This film was made possible with funds from: the Edie & Lew Wasserman Film Production Fellowship, Mary Pickford Award, and Edna & Yu-shan Han Award
With Kickstarter Support from:
Sandy Hu. Suzie Gee, Ryan & Marian Chan, Sid Tsai, Esther & Terry Ho, Margie H. Shigekawa, F Smith, Toni & Mike Chu, Linda Yuen, Dennis & Leanne Iida, Sarah Tseng, Megan Ebor, Dede Ching, Rebecca Yee, Cindy Hsu, Annie Hsiao, Ann Ha, Stacey & Daniel Spickard, Marcia & Ray Yuen, Tiffany & Jae Kwon, Kimberlee Law, Lauri Woo, John & Doris Chow , Allen Suh, Serena & Jeremy Liu, Tuyet & Tony Lee, Angel & Kenji Shimabukuro, Liz & Rod Quon, Nini & Thomas Wu, Arthur, Annie, Cheryl & Joyce Woo, Betty and James Yeow, Nora Mandray, Doug Turner, Colin & Helen Lau, Eric Huang, May & Tony Lew, Faye & Wes Ong, Don Luke and many more
In Loving Memory of Gung-gung
And dedicated to Po-po, Mom & Dad, the Yees, the Haradas, & the Quons
Copyright 2013, Vanessa A. Yee, all rights reserved
Produced at UCLA School of Theater, Film, and Television